Bringing forth a precision designed range of High Pressure Cleaners, Cement Plastering Machine, Airless Spray Gun, Cleaning Accessories, Drywall Sander etc.
Welcome to BUVICO - a one stop destination for all your needs pertaining to Cleaners, Cutters, Pallet Trucks and Spray Equipment. A young and dynamic organization, we have, by dint of our sheer hard work and commitment to quality, established ourselves as a prominent manufacturer, trader, wholesaler/distributor and supplier throughout the country. We deal in a precision designed range of High Pressure Cleaner, Hand Mixer & Hand Paller Trucks, Contractor Products, Cement Plastering, Heavy Coat Pump Series, Dry Wall Sander, Cleaning Accessories, High Pressure Washers, Airless Paint Sprayer along with Pneumatic Airless Sprayer, Electric Putty Mixer etc. We are also an importer of Spraying Products such as Spray Machines and Putty Sprayer. Manufactured using high grade raw materials, our entire range is highly acclaimed for being functionally efficient, durable and cost effective at the same
In an attempt to provide our customers with products that adhere to international quality at industry leading prices, we have appointed a team of qualified quality personnel, who possess immense knowledge and experience in their respective domain. They work round the clock to ensure that our customers get their value for money and we succeed in our mission of 100% customer satisfaction.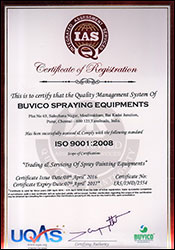 Read More